New Required BOYD Raid Gear!
September 25th - 2008, BOYD HQ - Due to a drop off in raid attendance over the last month, guild officers recently held a secret meeting and began funneling guild bank funds into a top secret engineering project, dubbed "Operation: PuGsucker". While some details have begun leaking out, there is a lot that we still do not know about exactly what "Operation: PuGsucker" is designed to do, or what it has already done. We do know for a fact that BOYD lead engineer, Mr. Sparky Goldenscrew has been holed up deep inside his secret labratory, designated "Area 57" in internal BOYD memos we have obtained.
In an effort to uncover the truth here we here at BOYD news put in numerous requests to ultra secretive BOYD leader, Lothgor, for an interview. He did not return our calls. Nor did he return our emails. Actually we don't even know if he got our calls or emails. Lothgor may not have even been to his office all day, maybe even all week. Honestly, we haven't even found proof that Lothgor exists. Oliver Hearthstone even suggested to us that Lothgor transferred off the server months ago and has since been replaced by an "Advanced Target Dummy" from the Undercity Auction House.
Finally, one BOYD officer agreed to grant us an interview, on the condition of anonymity. After showing up 20 minutes late for his interview, he put his totems down and agreed to let us know what was really going on at Area 57. "It's true, we have been selling off some ofour assets to fund this project. We had noticed lately that we needed to fill our raids up with random PuGs a lot more often then we would have liked. We needed something to help us suck the PuGs out of these raids and fill those spots with guildies. Our first attempt, 'Operation: Guildie Stuffer' was a total failure. Thankfully 'Operation:PuGsucker' has proven much more fruitful. It is my distinct pleasure to unveil to you now, our newest guild tool to fight underpopulated raids. I present to you, the BOYD Beacon!"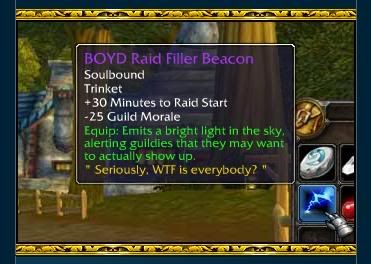 While it looks impressive, we did press the BOYD officer for more details. He continued, "Well we are developing these beacons for all sorts of various needs. If we need a tank, we have a tank beacon. If we need a healer, we have a healer beacon. It's pretty simple really. These beacons will beam a bright signal into the sky, where hopefully our guildies who are off doing their own thing will see that their guild needs them, and they'll come running to fill in as needed."
"Thank you for the insight, but couldn't you have saved all that money and just asked people in guild chat to fill spots?"
"Well, sure but that isn't as cool as this. Seriously, if you're being asked to come to a raid would you rather just receive some bland tell? Or would you rather see a bright signal in the sky, letting the whole world know that you and you alone can save the raid? It's like being Batman, only he's fake and this is totally real. Now if that's all, I really have to go, I have wife aggro...and remember, please don't reveal who I am, the other officers would kill me. Thanks!"
Will this new BOYD raid tool prove to be effective in filling raids and progressing? Or will it just be another waste of money like the infamous "Manshima Flask Injector" device which was never used, and the "Soundwave BS Detector" which could not be produced in large enough quantities, only time will tell. While our anonymous source did not provide us with a demonstration, we do have for you, our loyal readers, a local artist's renderings of what this beacon could possibly look like when in use.
First, the Oxn signal:

The Cassidia signal:

The Bulltanks signal:

The Grimtaash signal:

The Tacomeat signal:

The Zhignal: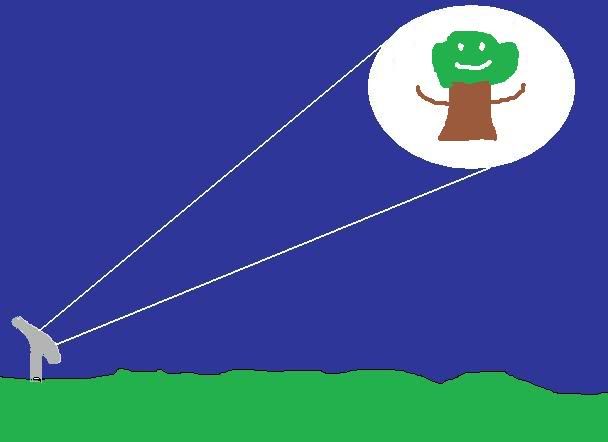 The Fazer signal: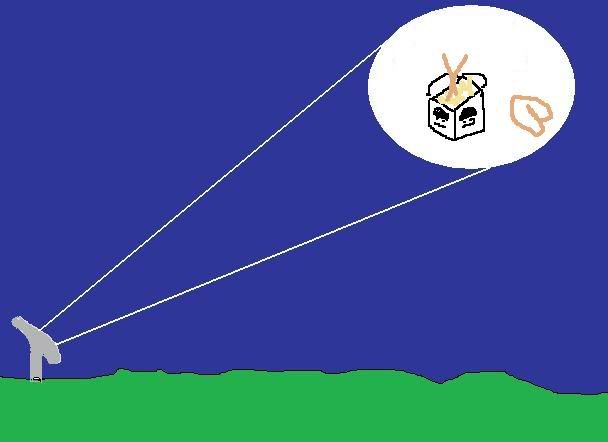 The Ferran signal: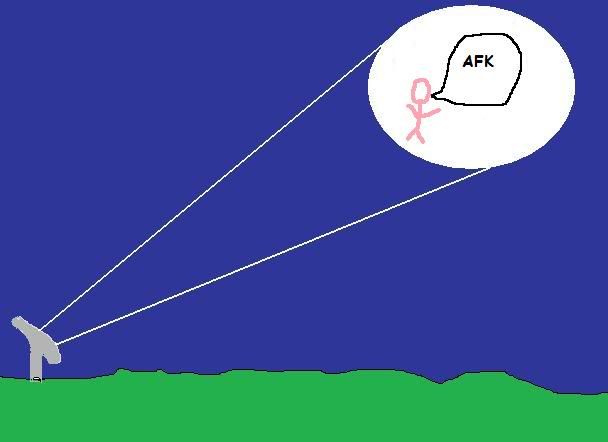 The Gravedancer signal:

BOYD Olympic Update
The third day of the games was rocked by controversy with rumors of a possible scoring scandal running rampant. The incident that lead to this speculation seems to have taken place near the end of this morning's Fencing competition. According to early reports, local favorite Drek'Thar had just finished his Fencing demonstration and was awaiting the scores when he was informed by Mr. Peter Azeroth, head of the Olympic Committee that he had been disqualified from the event. Pictured below is a clearly distraught Drek after hearing the unfortunate news.
.
.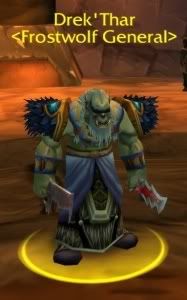 .
.
"I don't understand what is going on." said Drek'Thar. "I came all the way here to compete in Fencing and the fact that they want to disqualify me is PREPOSTEROUS!" Chairman Azeroth offered some clarification of the event rules, "Fencing has been part of the Games for years, and as everyone knows it is a spirited competition involving lightly poking another person with the end of a really bendy sword looking thing with a fancy name. I'm not even sure how to describe what Mr. 'Thar was doing, but take a look at this footage of his competition."
.
.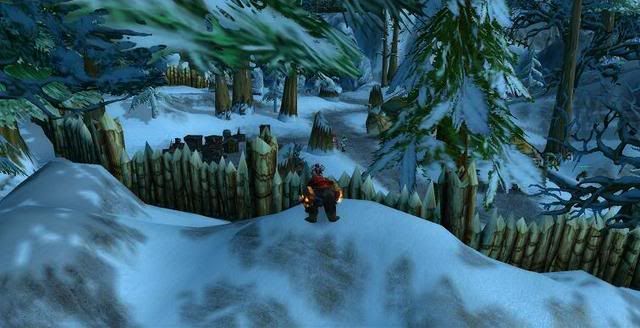 .
Drek'Thar (center) admires his work at the end of his Fencing event.
.
.


.
Here Drek shows the convenient opening in his fence, letting the Alliance judge easily admire the sturdy craftsmanship.
.
.
One participating Alliance judge agreed to give us his view of the situation, though he asked we conceal his identity for security purposes, so we will call him "Vann". He told us, "In my opinion, Drek'Thars Fencing leaves much to be desired, sure his technique is good, but his game planning is all wrong. A sturdy fence is all well and good but when you defend it with lazy, blind archers and leave gaping holes all over, it just isn't gold medallion worthy anyway."
A disappointed Drek'Thar answered a few questions on his way out of the stadium. He revealed he did plan to protest the judge's decision and attempt to reverse what he termed a "grave injustice". The question also arose if this was his last Olympic games, and it was suggested that being a "Frostwolf", he may be more suited to the Winter Games, possibly competing in the Biathlon. Drek'Thar quickly shot that idea down saying, "No thanks, I only go for the ladies."
Medallion Roundup - In other events so far, Lady Vashj won a silver in Ladies' Archery, the gold went to Sylvanas Windrunner. The gold medallion for Men's Diving went to Lurker B. Low, while V. Reaver captured silver in Men's Handball. Magtheridon surprised the entire field by winning the Pole Vault competition, and last but not least Attumen swept the Equestrian events when the judges could not confirm that fellow competitor, Baron Rivendare, actually had a mount.
In a sad bit of news, the Karazhan Women's Softball team was forced to forfeit it's remaining games when it was proven that team captain, Maiden of Virtue, had tested positive for banned substances such as HGH, steroids, and Cialis.
More exciting Olympic updates to follow, as they become available.
TEMPEST KEEP -- 08/04/08 Flight of the Pheonix Canceled
Queue up the music. Another boss succumbs to the awesome that is BOYD. It's amazing what you can do with an ankh, a brez and a soul stone. Grats to Cassiopeia, Grimtaash and Oxn on the lewt and to everyone that went on to complete your BT attunement!!!
BOYD Conspiracy Corner: The Badlands!
(This week we publish an editorial piece by renown conspiracy theorist, Mr. Oliver Hearthstone)
Friends, Tauren, factionmates, lend me your pointy ears! We have all heard the whispers of strange things going on across Azeroth; people "blinking" through the ground, or people suddenly "blacking out" only to come to a minute or two later yet find themselves somehow transported back in time to where they were 5 or 10 minutes earlier. It is impossible to believe all these reported incidents are unrelated. Clearly, something strange is happening, something our Horde leadership knows all about but clearly wants to keep hidden. A government cover up of this size, including such well known figures as Cairne Bloodhoof, Sylvanas, Thrall himself, and even the fruity guy in charge of that elf chick city could not stay a secret for long. In this article, good reader, I will show you undeniable proof that I have located the hotspot of this paranormal activity, that it is the result of top secret Horde leadership experiments, and that it is indeed in the Badlands.
Let us consider the evidence on a point by point basis. The more astute among you will notice the recent addition of a government agent in the region, one "Advisor Sarophas". Who is he advising? And why? It's the Badlands, nothing but rock and coyotes, what is there to really advise? Speaking of government personal in the region, let's ponder for a moment some of the items they ask us, the supposed unsuspecting population, to gather for them. Lesser Invisibility potions? Obviously they want whatever is happening there to remain unseen. Healing potions? Seems these experiments are dangerous, and the experimentors are looking for a little bit of insurance. Last but not least, a Gyrochronatom. Have any of you ever looked at what these things are used to build? No, I would guess not, you just run off to the auction house and buy one, all to eager to gain your trivial amount of experience while never even stopping to think about how you are enabling these diabolical people. You should be ashamed of yourselves. These are the key items in landmines and cloaking devices! What's your reward for playing your role as unknowing government stooge? A stopwatch. Sure it's nifty, but it slows down time all around you! If they hand out little trinkets like that, what more powerful secrets are they hiding from us? Think about it!
If you've had the misfortune of going to the Badlands, you know it is home to a huge underground facility known as Uldaman. A little known fact is that in an ancient Orcish dialect, the word "uldaman" literally translates to "oops". Did you know there is a secret hidden door to this place? Obviously intended for agents of Thrall to have access to these experimental creatures while avoiding the watchful eyes of the press. Have any of you ever seen some of the abominations they keep hidden in there? Probably not. Over my years of conspiracy study, I have managed to collect a couple photos of some of the unspeakable monsters which reside there. Here they are, published for the first time anywhere. I warn you, if you are squeamish or have a weak stomach, do not look at these pictures.
.
.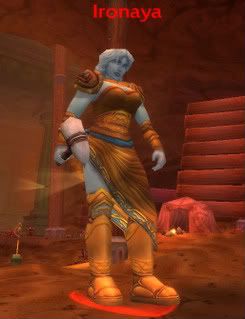 .
.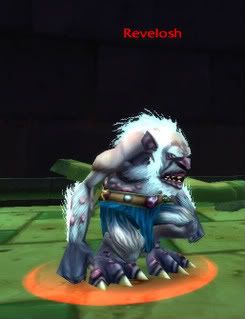 .
.
Ask yourself if those things look even remotely natural. No! Of course they don't, that's because they aren't. The tall ugly woman thing was clearly the result of a breeding experiment gone wrong. Clearly, this devil child, the result of the forced coupling of Golemagg and Maiden of Virtue did not turn out as the government expected. The disgusting thing they call Revelosh....well, all I can say is it is now clear that mixing Gnome and Yeti DNA is a mistake. One last point proving the strange goings on at Uldaman, as if we needed more evidence, is the fact that the Horde "Master" Enchanter, Annora is stationed there. Quick, name all the other tradeskill masters hidden away in an underground fortress guarded by creatures of unspeakable evil. Oh wait, there aren't any! Enchanters are known for making ordinary things increasingly more powerful, so we can only assume that a person who is a self proclaimed master at doing that is there to make these things even more deadly.
I have one more piece of photgraphic evidence my friends, but before I present it I must warn you it is indeed extremely graphic in nature and may disturb some younger viewers. This undoctored photograph presents unrefutable proof that something is indeed still going on the Badlands, something we all need to be made aware of.
.
.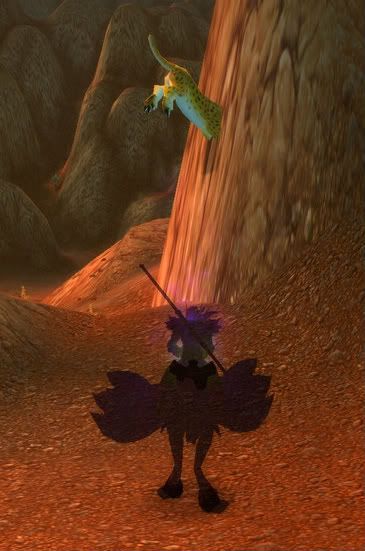 .
.
Yes folks, I was astonished when I stumbled across it as many of you are now. Can there be any doubt left over the existence of this conspiracy? Look at the picture, it clearly shows a ridgestalker literally fused into the side of a mountain. As you can see the body of the cat clearly extends from the rock back and to the left. Back and to the left. Back and to the left. This display lends even more credence to the rumors of an event known only as "The Kargath Experiment" in which a zeppelin full of Horde soldiers, hunters and their pets was subjected to an experiment meant to render them invisible to the Alliance, but supposedly resulted in people being lost in time, and fused into the zeppelin.
With this new evidence in hand, I journeyed to Orgrimmar and confronted Thrall himself with the simple question, "Warchief, can you please explain this photograph?"
He examined it for a moment, then replied "Mr. Hearthstone, Oliver is it? The mere idea that we as the Horde would be experimenting with the development of a Unified Field Theory in the Badlands, capable of rendering the Kargath Expeditionary Force completely invisible to the eyes of the Alliance, so that we may send them and the 'super soldiers' hidden in Uldaman to assault formerly impenetrable strongolds like Ironforge and Stormwind City just to cripple the alliance and make their lands ripe for the plundering by Horde forces while Alliance troops are preoccupied, is simply preposterous sir. I have no idea where you could ever come up with such a ridiculous claim."
"I simply asked about this cat stuck in the rockface."
"Oh, uh....I have no comment on that at this time, excuse me I am needed in Nagrand." With that he sped away.
I can only hope this article has opened your eyes to some of the secret events going on right around you. Please look for my future column in which I examine the assassination of King Bangalash. Was he indeed soloed by a level 24 rogue? Or was there actually a second hunter shooting atop the grassy knoll?
Until next time friends, watch your back.