Today in BOYD: When Officers Attack!
July 7th, 2008 - Cosmowrench, Netherstorm - In what can only be described as a stunning news development, BOYD HQ was rocked this last week by reports of an apparently pre-meditated assault on one of its own officers. Shockingly, this vicious assault was perpetrated by none other than two fellow officers, Muenster and Grimtaash, aided by one of the wonder twins, Fazer. Details are sketchy at this point, but it appears that during a BOYD run through Tempest Keep one of the enemies encountered managed to cast a sinister mind control spell on loyal BOYD officer, Rhett. As the following evidence shows, the vast majority of the victim's guildmates did their best to avoid injuring the distraught warlock. But as can plainly be seen here, three did not and despite the clearly heroic efforts of Seraphyne and Tacomeat, a fatality did indeed occur.
.
.
.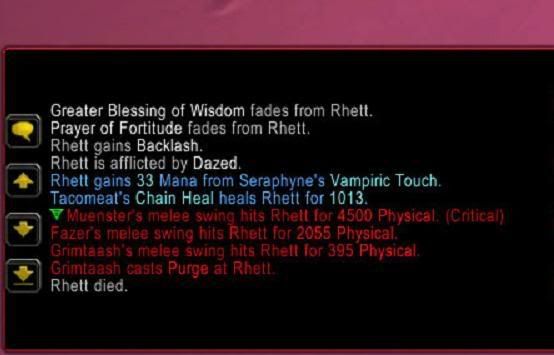 Et tu, Grimtaash?
.
.
.
While there is no hard evidence as to why this man was targeted, it is not hard to piece together some theories. Perhaps Grimtaash was a bit too eager to prove to his guild that he can actually do some DPS, thus he felt the need to flex his muscles a bit. Judging by his "hit", his muscles could use some more flexing before the next raid. Maybe Muenster still harbored some resentment that his loyalty to BOYD was called into question in a recent news story. Fazer, well he just hits whatever his little arms can reach.
To get more insight into this event, we went to resident BOYD pacifist and current GM of the month, Lothgor. He confirmed that the incident took place and also added, "I think it caught us all a bit off guard. Of course the officers have their little disagreements. Sometimes Senortoro disagrees with Rhett, sometimes Gravedancer disagrees with Senortoro, Senor has disagreed with Muenster before, Grimtaash has expressed disagreement with Senortoro in the past and even Senortoro has had issues with some things Senortoro has done. But never has it come down to actual bloodshed. It is my hope that we can all get past this and raid as one happy family again." With that, Lothgor walked off and asked Zhi and Dollan to change into tree form, so he could hug them.
Are the hostilities finally at an end? Or will there be yet more needless violence? We look for answers soon as BOYD ventures into Tempest Keep again this upcoming week.

Report: 9 out of 10 Trout Refuse to Fear Senortoro
June 17th, 2008 - Garadar, Nagrand - A team of marine biologists from the world reknown Blackfathom Institutue revealed today the findings of their most recent study. After months of research it appears that the fish population of Outland has no more fear of BOYD raid leader Senortoro than they did when the study began. "This does come as a surprise to us," said research team leader, Dr. Franklin Finflapper. "After months of Mr. Toro culling the fish numbers on a daily basis, we expected to see some noticeable increase in the amount of fish, especially trout, that were afraid of this man. To be honest, this conclusion surprised us all and we aren't sure where to go from here."
Senortoro himself expressed some disppointment with the findings of the researchers. We caught up with him at his fishing hole in Nagrand. "Hey buddy, do you have any idea how many fish I've caught in these waters? Cast after cast my sharpened fishing hooks bury themselves in their mouths as these arrogant fish struggle to avoid being made into a tasty raid buff while I reel them in. It's ridiculous that these fish don't respect me. What's a tauren supposed to do? I've reeled in Blackfin Darters time and time again, I never fail to bring in the world's largest mudfish and monstrous felblood snapper all but leap into my pack!" It was easy to see the frustration Senortoro was feeling. "I've done everything but practically beg these damn trout to fear me!" When reminded that he does beg them to fear him every day in guild chat with a "Fear Me Trout!" message, he replied "Well see, I've done that too!"
.
.
.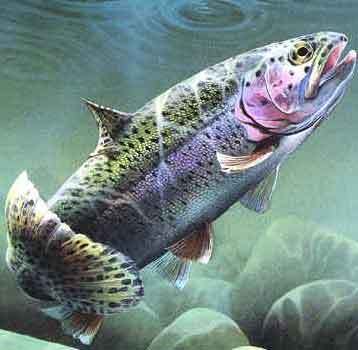 One of the many defiant trout.
.
.
.
In an attempt to find the cause of the trout's apparent lack of respect, we spoke to local fisherman, Old Man Barlo. "I don't claim to know everything, but word on the street is that some of these fish got wind of the fact that Toro used the phrase 'Clam Up!' in anger the other day. The marine life around here tend to stick together. There's no doubt that the local trout were offended by such a politically incorrect statement, using the name of their nautical brethren in vain. Senortoro has a lot of work to do if he wants to instill fear in these fiesty fin fiends."
News of the study's results made their way through BOYD headquarters. Rokoko was overheard saying, "Hey guys, did you guys know Senortoro killed a fish? Who helped him DPS it?" Amid the muffled laughter was one lone voice, that of guild mage Plaguefire asking if the fish dropped any good loot. It remains to be seen who will emerge victorious in this epic struggle between fish and cow, we here at BOYD news will update this story as events warrant.